Danial graduated from the University of Maryland, Baltimore County in 2019 with his bachelor's degree in Business Technology Administration. He then went on to get his master's degree in cybersecurity management and policy. Danial interned at the Department of Homeland Security in Washington, DC and went on to become a contractor for DC government, providing IT services to multiple different agencies. Currently as a Technical Support Specialist at Cloudforce, he is gaining extensive knowledge and experience in the IT industry, utilizing new technologies and tools.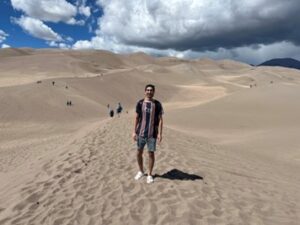 Other fun facts about Danial:
What do you do when you're not at Cloudforce?
I love to play volleyball regularly with my friends. I also love to work on my car and enjoy going to car events/meets.
What is your favorite dessert?
My favorite dessert is a warm brownie with vanilla ice cream on top.
If you were a season, what season would you be?
I feel like I would be summer because I love the warm weather and love to do outdoor activities whenever I can.
What is your favorite item you've bought this year?
I was able to buy one of my dream cars, the Lexus RCF.
What is your favorite thing to eat?
Tacos are my favorite things to eat.