Growing up, Tré was always that kid who wanted to "fix" everything. Lucky for us, Tré was especially drawn to technology and electronics, and decided to pursue a degree in Information Technology. As a student at Capitol Technology University in 2015, Tré enjoyed his first venture into the IT industry working as an intern at Washington Redskins Stadium. After graduation in 2017, Tré worked as an IT federal contractor prior to joining Cloudforce. Now a Cloudforce Systems Analyst, Tré specializes in providing technical support to users on all matters related to computer hardware, software, networking, and applications. Having discoévered the enormous potential and opportunity at Cloudforce and beyond, Tré has set his sights on other areas of expertise such as SCCM and device management. Tré now confidently stands ready to make his mark – fixing things and making a difference – in the powerful and vast world of IT.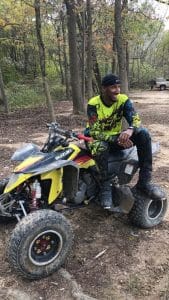 More fun facts about Tre: 
What do you do when you're not at Cloudforce? 
Spend time with my loved ones, especially my daughter; watch and play sports; read books; and tackle DIY projects

 
What are 3 words to describe you? 
Ambitious, freethinking, and courageous 

 
What is your favorite dessert? 
What is your favorite tradition or holiday? 
What is your favorite thing to eat? 
Chicken – jerk chicken, chicken and waffles, chicken pasta – just about anything with chicken