Angela's fascination with technology began at a young age, but her passion veritably came to fruition when she started high school. She participated in PLTW (Project Lead the Way), a pre-engineering program where she completed courses in digital electronics and civil engineering. As a student at Bowie State University, Angela facilitated projects such as the Disaster Relief IoT System, which created a system that would detect clean and usable water after a natural disaster event.
Angela is also an accomplished costume designer and seamstress. Her work has been showcased throughout the DMV area with theatrical companies such as Imagination Stage, MNCPPC's Shakespeare in the Parks, and Arena Stage. In 2019, she collaborated with the award-winning Arlington Art Truck and various fabric artists on a local art installation titled TIES THAT BIND: Learn to Sew on a Button and Connect. Shortly thereafter, she completed an internship with Amazon Web Services as a Solutions Architect Intern and is an AWS Certified Cloud Practitioner. Angela joined the Cloudforce family as a Cloud Services Intern, then Cloud Services Associate where she earned multiple certifications in Microsoft Azure. She is now a Cloud Services Lead and is thrilled at the opportunity to grow with the company as it revolutionizes custom cloud solutions.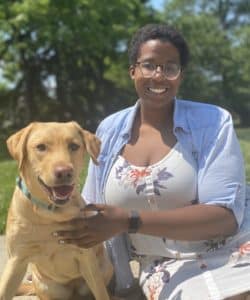 Fun facts about Angela:
What fictional family would you be a member of?
The Rose Family from Schitt's Creek
What is your favorite dessert?
What is your favorite album?
Nation of Two by Vance Joy
What are you reading at this moment?
"Our Time is Now" by Stacey Abrams
What is one quote that stands out to you?
"You have no obligation to your former self." – Hank Green