Having a passion for animals and all things aquatic, Caitlin originally began her career as a marine mammal specialist. For 11 years she was able to gain experience and build relationships with a variety of species in Florida and New York before moving back to her home state of Maryland. She was thrilled to join the Cloudforce team when the opportunity arose. As an Executive Assistant at Cloudforce, Caitlin now builds her career by contributing to the executive team and supporting the #eliteforce, as well as creating essential relationships with Cloudforce guests and clients.
Caitlin is a graduate of Coastal Carolina University. In her free time, she is an avid movie watcher, and enjoys snowboarding, surfing, and spending time with friends and family (both human and animal!).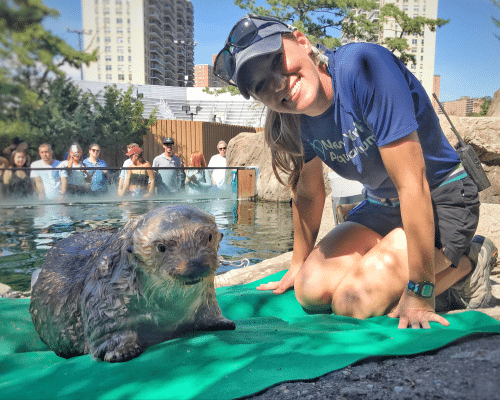 Other fun facts about Caitlin:
What is your favorite tradition or holiday?
Christmas is my favorite holiday! My favorite tradition is decorating the Christmas tree with family while listening to Christmas music. For me, it's my favorite time of year and I love having all the decorations, family, and friends around.
What is your favorite dessert?
Birthday Cake Remix from Cold Stone Creamery.
If you could be guaranteed one thing in life (besides money), what would it be and why?
Probably front row seats at the Oscar's every year because I'm a huge movie nerd. That or box seats to the Capitals games.
Have you ever completed anything on your bucket list?
Yes! I was lucky enough to visit the Galapagos Islands. I was able to cruise around the different islands, see all the species of animals, hike the beaches and lava fields, as well as deep water snorkel with the amazing fish and sea lions.
What is one quote that stands out to you?
"They said she couldn't, so she did." -Kendra Ford