Christina grew up in South Florida and moved to DC to study business administration at American University. She started her career in the live events industry as a talent coordinator for a music and entertainment company, booking classical and jazz artists (as well as bagpipers, dancers, and sometimes even mermaids) for upscale events. While still in the events space, she transitioned to an operations coordinator role at an event design firm where her interest in the field of Human Resources grew. Now as the Engagement Specialist at Cloudforce, she taps into her events, operations, and logistics-planning background to help bring the team together in interactive ways. In her time outside of work she enjoys outdoor adventures, searching the tri-state area for the best ice cream, and taking her dog on hikes.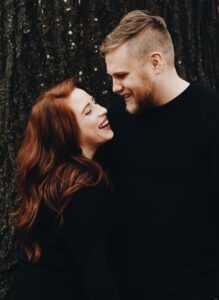 Other fun facts about Christina:
What fictional family would you be a member of?
The Munsters! Cobwebs should always be a staple of cozy home décor.
What is your favorite album?
It's a tie between The Promise Ring's Nothing Feels Good and 50 Cent's Get Rich or Die Tryin'.
What is your favorite item you've bought this year?
This year I bought a dehumidifier for my bathroom, and I now can't imagine life without one.
What do you do when you're not at Cloudforce?
I love any activity that can be done outside. Hiking, camping, and kayaking are my current favorites. My perfect day would include an outdoor activity coupled with a little antique shopping and topped off with farm-fresh ice cream. When it's too cold for an outdoor activity, I like catching up on art museum exhibits, watching movies, and going to concerts.
What fictional world (comics, TV, anything) or place would you like to visit?
As someone whose comfort TV show is Gilmore Girls, if I could visit any fictional world, it would be Stars Hollow. I get emotional even thinking about the idea of Stars Hollow as a real place. Ugh, if only!