Daniel Ruberg has close to ten years of Network Administration and Engineering experience.  He finished his undergraduate degree in Computer Management Information Systems from Liberty University in 2008. After graduation, he returned to Liberty University and obtained his master's degree in Youth Ministry, then held several positions in the D.C. area that have helped shape his career path to this point.
Since joining Cloudforce in 2018, Daniel has shown exponential growth in the Azure cloud and has been dubbed our very own #cloudninja. As a Cloudforce Cloud Architect, Daniel has deployed, managed, and migrated several production workloads to Microsoft Azure utilizing the latest technologies that Microsoft cloud offers.
Daniel holds several industry-leading certifications, including: Certified Information Systems Security Professional (CISSP); AZ-300/301: Microsoft® Azure Architect Technologies; AZ-500: Microsoft® Azure Security Technologies; and Microsoft® Certified Solutions Expert: Cloud Platform and Infrastructure.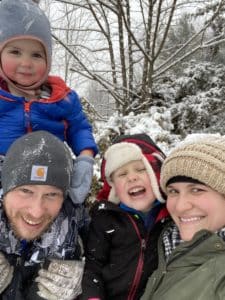 Other fun facts about Daniel:
What do you do when you're not at Cloudforce? 
Faith, family, and sports. My family is big into sports and the outdoors, so we are often outside doing something together on the weekends.
As a child, what did you want to be when you grew up? 
I wanted to be in the NHL. I grew up playing hockey and it was always a pipe dream for me. Hopefully, I can live vicariously through my son when he gets older!
What is your favorite dessert? 
Turkey Hill Choco Mint Chip ice cream… the best ice cream, hands down!
Do you have any hidden talents? 
It is not really a talent, but I can curl my pinky toe over my ring toe without using my hands. When I show people, they are generally grossed out instead of impressed.
What is your favorite item you've bought this year? 
This past year we got a Peloton. It has been an amazing addition to our home with two little kids and allows us to get a workout in without leaving the house. Hit me up if you want to cycle. My Peloton username is cl0udninja.