Elliot's innate curiosity with technology followed him throughout his childhood, but it took a high school Java programming course to ignite his interest into full-blown fascination. The experience of this one class proved pivotal in shaping Elliot's education and career path. Elliot went on to pursue his passion with technology and graduate from Towson University with a degree in Computer Science.  Shortly after graduating, he landed an opportunity at Cloudforce as an intern where he was introduced to cloud computing and hasn't looked back since.  Currently, as Senior Cloud Solutions Administrator, he enjoys putting his problem-solving skills to the test and advancing his knowledge with industry-recognized certifications.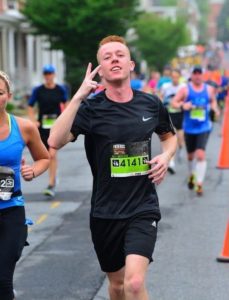 Other fun facts about Elliot:
What do you do when you're not at Cloudforce? 
Stay- active!  I love to run and play tennis.  I've run three half marathons and numerous 5k's.  I play tennis year-round and compete in local tournaments around Maryland.
What is your favorite dessert? 
Honestly, anything from Coldstone…
What is your favorite album? 
 Everything Means Nothing – Blackbear
What is your favorite thing to eat? 
Breakfast food for sure!  Pancakes, French toast, eggs, bacon…I could eat it for every meal of the day.
What is your favorite tradition or holiday? 
Halloween!  It gives me an excuse to eat lots of candy.