Gin joined Cloudforce as a Junior Workforce Specialist immediately after graduating from University of Maryland. Since then, she has deftly applied her degree in Psychology and Sociology, along with her innate people skills, to help grow and shape our elite team into an even more richly diverse and talented force. Now as the Workforce Specialist Gin uses her energizing personality to source, hire, and retained our amazing team. Throughout her life, Gin has embraced a multitude of hobbies and activities, including dance, gymnastics, skiing, piano, violin, art, cooking, baking, and programming. Throughout college, Gin worked as a camp counselor, Lithuanian school teacher, and research assistant in various fields of psychology. A Maryland native, Gin thrives on trying new things and has spent many summers interning and studying in Europe. In her free time, Gin likes to go out with friends, watch reality TV, paint, read, play board or video games, experiment with spices, and most especially, travel.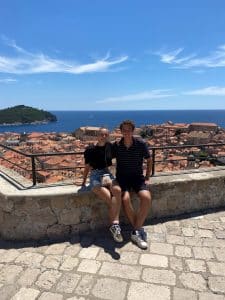 Other fun facts about Gin: 
What is your favorite dessert? 
What are you reading at this moment? 
Currently reading Agatha Christie novels

 
What is your favorite thing to eat? 
Sushi!!!! Or any Korean BBQ

 
What fictional world (comics, TV, anything) or place would you like to visit? 
Harry Potter World – this is the only right answer!

 
What is your favorite item you've bought this year? 
A big, red, velvet Papasan chair from Facebook Marketplace. I love napping in it or curling up and reading a book. Good vibes.