Heba started her career as a financial controller working as a federal contractor in the engineering services sector. Demonstrating her keen proficiency in effective program oversight and execution, she quickly moved up into more senior roles, ultimately landing as the Deputy Project Manager on a highly visible special project with the U.S. Army.  In 2016, Heba brought her nine years of operational oversight expertise and business savvy to Cloudforce as Director of Operations, then was promoted to Vice President of Finance in 2023.
In addition to her extensive management background, Heba brought along her breadth of knowledge in data aggregation and analysis. She excels at optimizing methods and procedures to achieve process improvements and maximize efficiencies.
Outside of work, Heba enjoys the local arts, a rocking music playlist, outdoor adventures, and getting her handywoman fix in on DIY projects.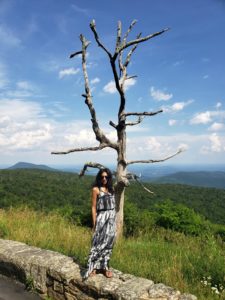 Other fun facts about Heba:
As a child, what did you want to be when you grew up? 
Being inspired by some amazing teachers myself, I wanted to be an elementary school teacher, and initially going into college thought that was what I was going to pursue. With math being my strong suit, I had a change of heart and pivoted to a finance major mid-way. Although my path ultimately took me in another direction, I've found other avenues to teach and mentor in my career as well as opportunities to support youth programs through volunteerism.
What is your favorite album? 
This is a hard one because enjoying music is my favorite pastime and there are so many amazing albums on my top picks list.  Pink Floyd's Wish You Were Here is the one I always start with on my road adventures (another favorite pastime of mine).  My favorite playlist is a mix of classic and blues rock including Led Zeppelin, Freddie King, John Mayall and the Bluebreakers, and Fleetwood Mac, but I also enjoy all genres and especially appreciate the live music scene.
What season would you be? 
Summer all the way! I love to be outdoors, especially near water or by the mountains. Exploring, hiking, picnicking, or just laying outside enjoying the sounds of summer brings me the most joy.