Husein Sharaf's passion for all things technical began early in life, growing up in a modest home in Fairfax, Virginia. By age seven, he was deftly dismantling—and rebuilding—everything from lawn mowers to vacuum cleaners. By middle school, he was proficient at building websites and coding; and as a young teenager, he worked part time repairing computers. At age 18, Husein shattered all expectations by landing his corporate first job at Booz Allen Hamilton—without a college degree. This would be the first of many experiences working as a federal contractor for this astute, self-taught young professional, followed by several years working as an independent consultant to both commercial and federal clients including, most notably, the National Institute of Standards and Technology (NIST).
Throughout his whirlwind career as a systems engineer, Husein has always brought along a true passion of finding ways to harness the power of technology to make life better. So it is certainly no surprise that when most people first heard of cloud computing and dismissed it as a Silicon Valley indulgence, Husein looked beyond the contention to see how cloud technology could free businesses from unwieldy infrastructure, spur innovation, and even change business models. Now as fearless head-nerd and CEO of his own Microsoft Gold Partner firm Cloudforce in National Harbor, Maryland, Husein leads his eclectic team of engineers in the development of complex cloud solutions to support mission-critical systems for dozens of programs across industries and government.
In addition to all things Microsoft cloud, Husein is also passionate about giving back to his Prince George's County community and believes it is the responsibility of every business to help develop the types of communities its members and customers want to live and do business in. Husein currently serves as the Chairman of the Prince George's County Tech Council (PGCTC) and on the board of directors of STEMship, a local non-profit aimed at creating STEM learning opportunities for under-privileged youth. As someone who acknowledges his own opportunities to make positive impacts doing what he loves, Husein is very proactive about supporting the development of other young IT aficionados—with a special soft spot for those who love to tinker.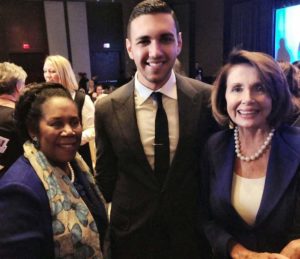 Other fun facts about Husein:
What do you do when you're not at Cloudforce?
When I'm not working, my favorite thing to do is travel, even if only for a few days at a time. I've been inspired by shows like Anthony Bourdain's "Parts Unknown" to travel to places off the beaten path, to experience different cultures, and to broaden my world view through food, music and art.
As a child, what did you want to be when you grew up?
As a child I wanted to be a vehicle designer, or to have some involvement in motor racing.
What is your favorite dessert?
Crème brûlée – all day! I even learned to make it (the only thing I know how to bake) because I love it so much.
What would be the most surprising scientific discovery imaginable?
Teleportation – I've always been fascinated by the idea of moving people or objects in non- traditional ways. Perhaps it's my obsession with travel which drives my somewhat irrational desire to see this come to fruition!
What are you reading at this moment?
Good to Great: Why Some Companies Make the Leap and Others Don't by James C. Collins.