Jesse Kellner brings a unique breadth and depth of experience to his role – first as Cloudforce's Director of Programs, now Vice President of Delivery. While serving both our illustrious team of cloud ninjas and valued client portfolio, he leverages over 20 years of professional experience in leadership, project management, and business development.
Jesse received his Bachelor of Arts in Biblical Studies from Washington Bible College before serving in vocational ministry at both established and emerging communities of faith. Thereafter, Jesse transitioned into the sales and business development space, culminating in over 10 years as a commercial real estate broker in the Annapolis, MD market. As he began to explore the next chapter of his career, Jesse turned to the University of Maryland's Robert H. Smith School of Business where he earned a Master of Business Administration degree in 2016. Jesse's next career move would be a serendipitous combination of his passion for networking with his unbridled enthusiasm to promote Smith students when he became Smith's Assistant Director, Employer and Business Development. It was in this role serving as a natural evangelist for Smith students that Jesse first crossed paths with his soon-to-be colleagues of  Cloudforce—who were then actively recruiting some of Smith's top talent!
As Cloudforce Vice President of Delivery, Jesse spends his time deploying tech ninjas to delight customers and harness the Microsoft cloud. Jesse is convinced that happy technologists deliver top technical solutions leading to delighted customers, a formula to which he remains committed as Cloudforce grows and scales.
Jesse, his beloved wife, and two children are in the process of developing their little log cabin home on almost 50 acres just south of Annapolis into a joyous family homestead and hospitality hub. He is an avid sports enthusiast, both participating in area old man leagues and stubbornly supporting his Washington Football Team, Orioles, Wizards, and Capitals.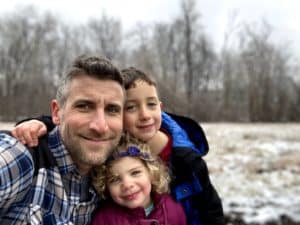 Other fun facts about Jesse:
What do you do when you're not at Cloudforce?
Our family and friends spend a lot (!) of time outside at our property. My son recently discovered shark teeth within the little stream in our woods, even uncovering some impressive Megalodon specimens (an extinct species of prehistoric shark, the largest sharks ever). We love to light the bonfire, partake in some great food and drink, let the kids run amuck, and just be together.
If you had to delete all but 3 apps from your phone, which 3 would you keep?
Microsoft Teams (of course!), Photos, and Waze.
What is your favorite thing to eat?
Pepperoni Pizza (with a shoutout to Di Meo's Pizzeria, Crofton, MD). Is this even a question?
Have you ever completed anything on your bucket list?
Baltimore Marathon, 2009. And, yes, I beat Oprah.
What are you reading at this moment?