In high school, Leslie wanted to be a doctor – until she fainted typing her own blood in Advanced Bio class. Lucky for us, Leslie also loved to write; and the rest is … herstory.
Before joining Cloudforce as Marketing Manager, Leslie worked in corporate and ad agency settings, and as owner of her own freelance writer/producer business. Throughout her career, she's written spots and informercials for the likes of Isaac Hayes, Larry King, Brian McKnight, and Tom Bodett, to name a few. Her passion for inspiring, informing and entertaining also led to several fundraising and awareness video efforts for the Northern Virginia Urban League and Northern Virginia Family Services. As a proud Syracuse University graduate, she also served as Alumni President for the Washington metropolitan area, where she helped establish a scholarship program for area students attending S.U.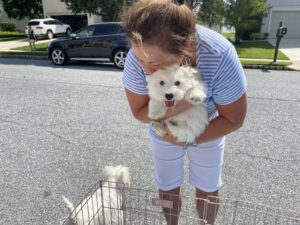 Fun facts about Leslie:
What do you do when you're not at Cloudforce?
I love to garden, cook, create mantlescapes, and hang out with my Westie pup, Billie. I also enjoy long weekend escapes to the Delaware shore. The Long Island girl is still in me!
What did you want to be growing up?
A ballet dancer … until I was told I was too short.
Do you have a quote you live by?
"Let bakers bake." It's my self-penned mantra honed from years of film production where many professionals would convene to execute their respective expertise in the most inspiring ways. Production shoots taught me the virtue of respectfully staying in your lane and letting others do what they do best. It's the magical personification of mutual respect. It's like a human-action symphony. And worth the restraint.
What book are you reading now?
A human atlas of the world, showing the parallel evolution of cultures, worldwide. It's the ultimate multi-tasker tome!
What are three words to describe you?
Creative, tenacious and sentimental