Lucas has been in front of a computer since he was a child — from playing games on floppy disks and CDs to his heart's content, to his dad showing him how to download music. Over time this grew into a yearning for more knowledge. In college at University of Maryland, Baltimore County, he obtained a B.S. in Information Systems with a focus in cybersecurity and grew interest in the cloud. After graduating, he quickly found his way to Cloudforce where he was hired as an intern. He absorbed everything he could and got his hands into as much as possible and earned a full-time position on the service desk, and then a position on the engineering team as a Cloud Solutions Associate. Here he's putting his skills to the test helping companies build and migrate into the cloud – and using infrastructure as code as a foundation for it all.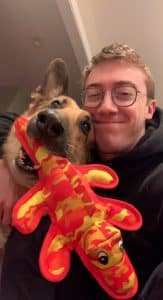 Other fun facts about Lucas:
What do you do when you're not at Cloudforce?
I love to weightlift so a lot of the time you may find me up in the gym just workin' on my fitness. I also love to learn new things and be on the water. Gym, books, and boats.
Do you have any hidden talents?
I can make the platypus noise from Perry the Platypus – I guess it's not so hidden anymore.
As a child, what did you want to be when you grew up?
An astronaut – still do – still don't think it's going to happen. I compensate for this desire by learning about astronomy and astrophotography when I have the time because anything related to space is still fascinating to me.

 
What is your favorite thing to eat?
Really have been digging bagels recently – and glazed pecans.
What are you reading at this moment?
A Japanese children's book – I can barely understand a thing, but we're getting there.