For Michael, a passion for learning and acquiring new skills drives a multitude of non-stop professional, technical, and academic pursuits. Michael's drive and ambition took root in his days as an Information Technology major at North Carolina Agricultural and Technical State University, where his myriad experiences led to advancement in various areas of focus. Following graduation, Michael participated in the Cloudforce internship program, and has since gone on to receive his AZ-900 certification and become a Cloud Applications Associate. Moving forward, Michael is eager to tackle the diverse array of challenges and opportunities presented by the wide array of public and private sector clients served by Cloudforce.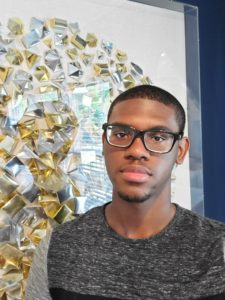 Fun facts about Michael:
What do you do when you're not at Cloudforce?
I like to work on personal projects. Usually, it's something a friend is interested in or a project that will help me learn a new skill. I also like to play video games a good amount. Recently I've been trying to get into game development but it's pretty time consuming.
What is one quote that stands out to you?
"People pay for what they do, and still more for what they have allowed themselves to become. And they pay for it very simply; by the lives they lead." – James Baldwin, "No name in the street.
I like to think of this quote in the context of my personal agency in making myself who I am and how my actions affect what other people see in me.
As a child what did you want to be when you grew up?
I wanted to be a lot of things: landscaper, judge (not a lawyer), baseball player, etc.
What is your favorite dessert?
Well-made Strawberry Shortcake!
If you could be guaranteed one thing in life (besides money), what would it be and why?
Good health, success, an abundance of free time or just peace and calm.