Ryland has always had a propensity for technology, despite having no background in his family. He remembers first taking apart (and putting back together) the family computer when he was around 14. He started working in enterprise IT at 16 as an intern managing an end-user support queue for around 3,000 employees at a large newspaper. He went to UCF and got his degree in IT, working as a systems administrator for one of the colleges and doing everything from answering help desk calls to managing all identity, web, database, and hypervisor infrastructure as part of a 3-person team. Also in college, he interned multiple summers and contracted during the school year with Jabil, a Fortune 100 global electronics manufacturing company. He worked on their infrastructure architecture team before being hired after college to help start their infrastructure automation center of excellence (CoE).
Jabil is where Ryland's love for the cloud was realized and grew into what it is today, as previously he had been squarely focused on on-premises infrastructure management. In the 2 years that he spent on the infrastructure automation CoE, his 5-person team was able to save Jabil over 2 million dollars of direct cost in both public cloud usage and outsourced labor hours. Jabil's culture of technological excellence and healthy inter-departmental competition drove him to obtain over 10 professional certifications within the 2 years he spent there as a full-time employee, including 8 for Azure. He then moved to Trellance where he worked as a technical product architect, helping to design their cloud-native data analytics platform for credit unions. Most recently, Ryland has brought his talents and experience to support the Cloudforce team as a Senior Cloud Solutions Engineer.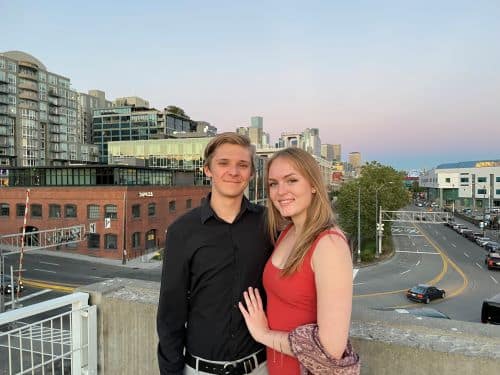 Other fun facts about Ryland:
What do you do when you're not at Cloudforce?
Outside technology, I love traveling, hiking, and camping with my girlfriend. I also have a great time playing with my cat, going out with friends, watching sports, and making DJ mixes of my favorite electronic music.
If you had to delete all but 3 apps from your phone, which 3 would you keep?
Messages, Spotify, and YouTube. Communication, music, and education/entertainment.
What is your favorite album?
Drink The Sea by The Glitch Mob. This album was the first that I really felt an emotional connection to and ignited my passion for music.
If you could be guaranteed one thing in life (besides money), what would it be and why?
Time to spend with my family and friends. My interpersonal relationships are the most important thing in my life, and I want to ensure that I always have the time to enjoy their company.
What is your favorite dessert?
Ice cream. It provides a ton of room for creativity in flavors and presentations.