Vu Hoang has always been amazed by technology inventions especially anything electronic. At a younger age, Vu built personal computers for himself and friends when computers were still a relatively new thing in his neighborhood in Vietnam. Throughout his lifetime, Vu has moved to different cities and countries to study and live, making him a highly adaptable, self-taught quick learner—or as we like to think of him: a super computing human wonder.
As Cloudforce Cloud Solutions Engineer Vu helps a wide variety of clients, from small startups to fortune 500 companies with hundreds of workers, to navigate IT challenges, improve system performance, and upgrade their security posture. Vu holds several Azure certifications and is a Cisco Certified Network Associate (CCNA). Outside of his daily Cloudforce duties, Vu enjoys hiking and loves to design and build wood furniture.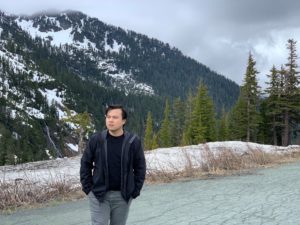 Other fun facts about Vu:
As a child, what did you want to be when you grew up?
If you could be guaranteed one thing in life (besides money), what would it be and why?
Youth and health if possible
What is your favorite tradition or holiday?
Lunar New Year because it is when everyone in the family gathers and spends time together
What's the best piece of advice you've ever given?
If you are not challenge yourselves when you are young, life will challenge you when you are old
What is your favorite thing to eat?